The Pavilions Himalayas architectural team presented at this year's Global Sustainable Tourism Forum in Seoul, discussing with a live panel the importance of implementing sustainable practices at the resort, including passively designing efficiency into construction and maximising natural energy sources. 
The forum's main objective is to focus on the importance of sustainable tourism, introduce successful cases of sustainable tourism, and look for approaches to enhance collaboration with tourism stakeholders.
"It was a great opportunity to showcase The Pavilions Himalayas' unique sustainable features to an audience of 200 people, including government dignitaries from the ministries, the Korean Tourism Organisation, UN agencies and University professors." said Alex Shrestha, architect & urban plannerfor The Pavilions Himalayas.
"The Asian market is slowly but surely moving towards sustainable resorts and practices; it is an honour to present our diverse practices to help stimulate inspiration amongst industry partners." Mentioned Tim Sargeant – Group Director of Marketing for The Pavilions Hotels & Resorts.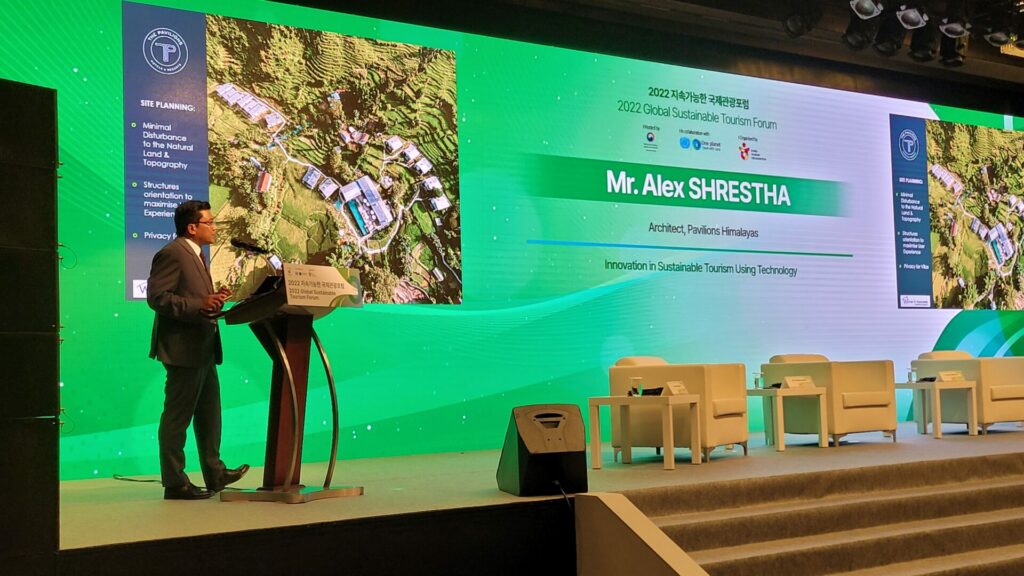 Nestled in the natural paradise of a lushly forested valley and set against the backdrop of the majestic Himalayan mountain range. The Pavilions Himalayas consists of two satalite locations and is a truly eco-sensitive luxury resort that gives back to the local community.
The Farm powers the entire resort and its 14 luxurious villas with renewable energy, and our organic farm is the source of our fresh produce – making for a feel-good getaway in every sense.
Our Lakeview satellite resort comprises eight tented villas delivering an ideal mix of luxury meets adventure. The very definition of glamping, you get the best of both worlds – the comfort and elegance of a villa combined with the beauty and wonder of camping in nature.