Your Curated Journey Starts Here
reserve your next stay with us
LLM travel editor Natasha Heard checks in to this brand-new luxury hotel in the Eternal City.
From family resorts to boutique charmers: the highest-rated stays around the world.
The Pavilions Niseko Resort, Hokkaido has announced the completion of several major development milestones ahead of its launch in 2024.
A chic new Roman address just joined the city's ever-expanding boutique luxury hotel scene: The Pavilions Rome, The First Musica—the latest introduction from Hong Kong-based hospitality brand, The Pavilions Hotels & Resorts.
The Pavilions Hotels & Resorts is relocating 19th century traditional kominka Japanese houses for a new luxury resort in Hokkaido.
The hotel experts at the MICHELIN Guide award The Pavilions Phuket with 19.6 rating.
If you're looking for the best private villas in Bali, we have researched the top hidden gems in Bali with a private pool. Read on for our guide to the top 5 best private villas with pools in Bali…
Bali is a holiday paradise for various kinds of people whether you are traveling on a budget or seeking to experience a sense of luxury. If you are one of those that are looking for an intimate holiday, here is a list of hotels in Bali offering relaxing, refreshing, and yet private remedy:
The Pavilions Bali, tucked away from the bustling village streets of Sanur, is so hidden and discrete most taxi drivers will drive right past its entrance.
Luxury boutique hotel brand The Pavilions Hotels & Resorts has been named as a winner in the 'Hotels & Resorts' category of Full-Time Travel's first annual Gamechangers travel awards.
The best places for a sleepover in Madrid, from cool hostels to grand-dames.
you might be interested in..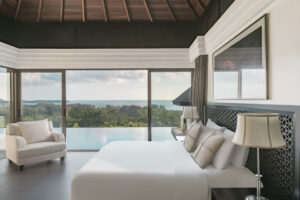 The Pavilions Phuket adds another trophy to the cabinet by being crowned Best Luxury Resort in Phuket by the esteemed Lifestyle Luxury Awards, and continues the testament to the luxury resort team's ongoing efforts to provide guests an unforgettable experience.
Read More »