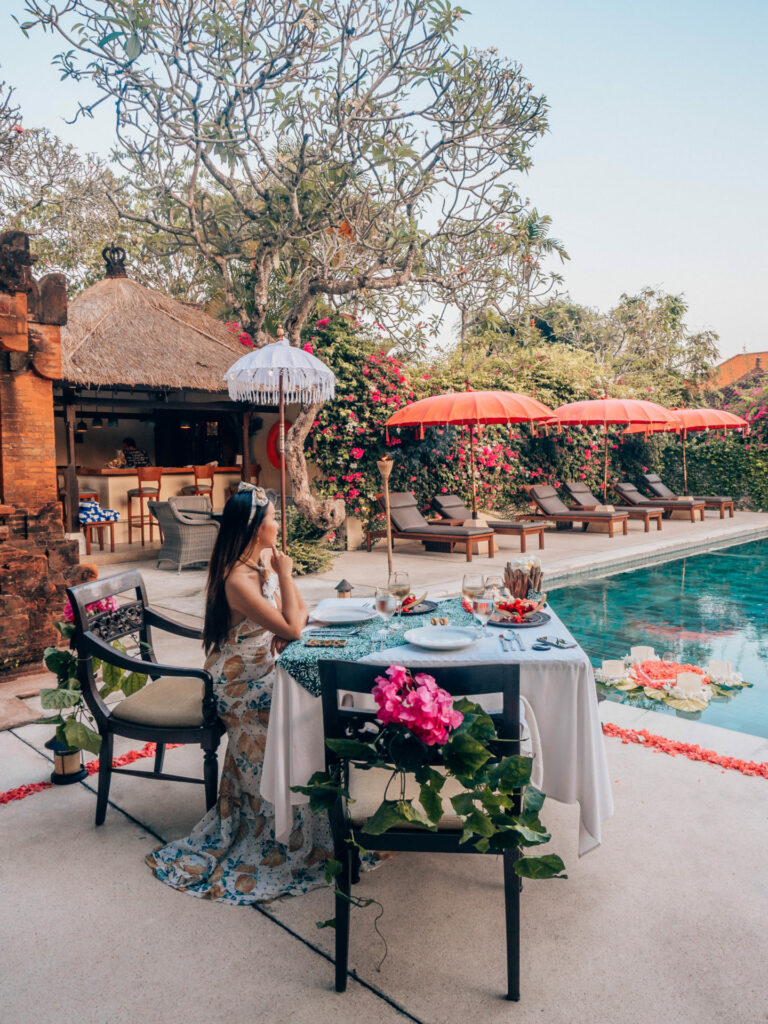 Escape to paradise
Temukan 'Heaven on Earth' anda di The Pavilions Bali sekarang juga dengan penawaran eksklusif untuk wisatawan domestik mulai dari Rp1,150.000 untuk Garden Villa dengan jaminan free upgrade ke Pool Villa kami yang mewah.
Pengalaman menginap di The Pavilions termasuk:
Upgrade gratis dari Garden Villa ke Private Pool Villa
Welcome drink pada saat kedatangan
Sarapan di Jahe Restaurant
Akses Wi-Fi gratis
Bayar 1 untuk 2 perawatan Spa favorit anda
Upgrade pengalaman menginap anda
Tiba dengan penuh gaya, hotel Airport Transfer hanya Rp 300.000 sekali jalan
Nikmati BBQ Seafood khas The Pavilions dengan harga Rp 275.000 per orang
Manjakan diri Anda dengan menginap di Honeymoon Pool Villa kami hanya dengan tambahan biaya Rp 300.000 per malam
Keuntungan menginap lebih lama:
Menginap selama 2 malam dan nikmati late check-out gratis
Menginap 3 malam dan manjakan diri dengan perawatan Spa bersama pasangan selama 60 menit
Menginap 4 malam atau lebih dan nikmati makanan khas Bali secara gratis untuk berdua
Periode pemesanan: 31 Maret 2021
Periode menginap: 24 Desember 2020 – 31 Maret 2021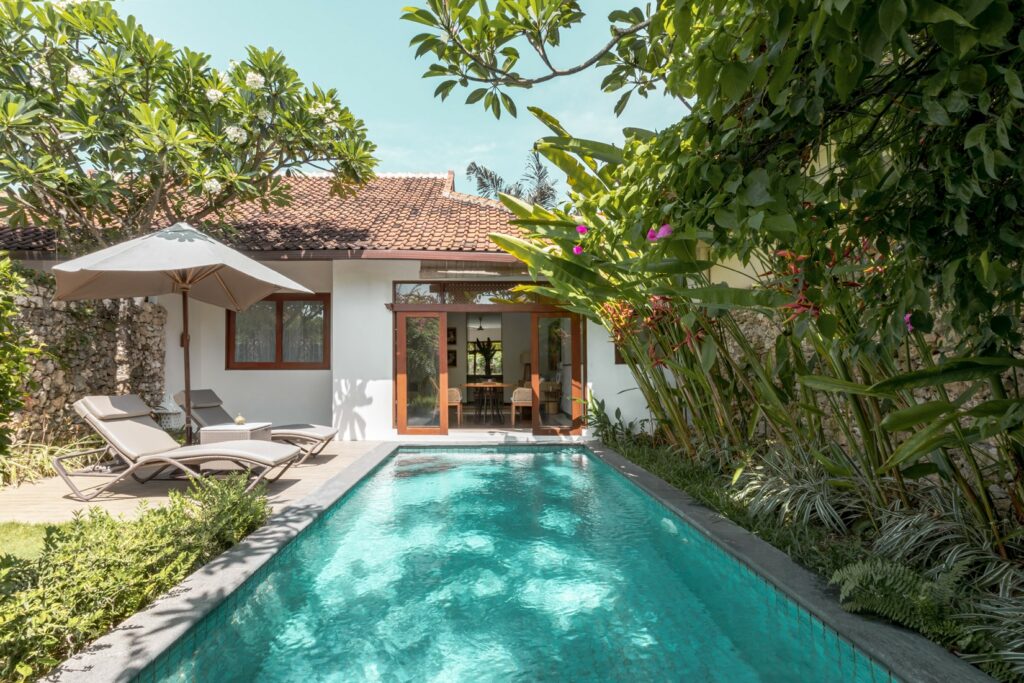 One Bedroom Pool Vila
One Bedroom Pool Villa yang mempesona dan nyaman ini adalah tempat terbaik untuk menikmati waktu bersantai. Berenang di kolam renang pribadi, menghabiskan waktu untuk tidur siang dengan nyaman di beranda yang sejuk atau makan bersama di bawah bintang adalah latar yang sempurna untuk suasana intim dan romantis bersama yang tersayang.
Harga mulai dari Rp 1,150.000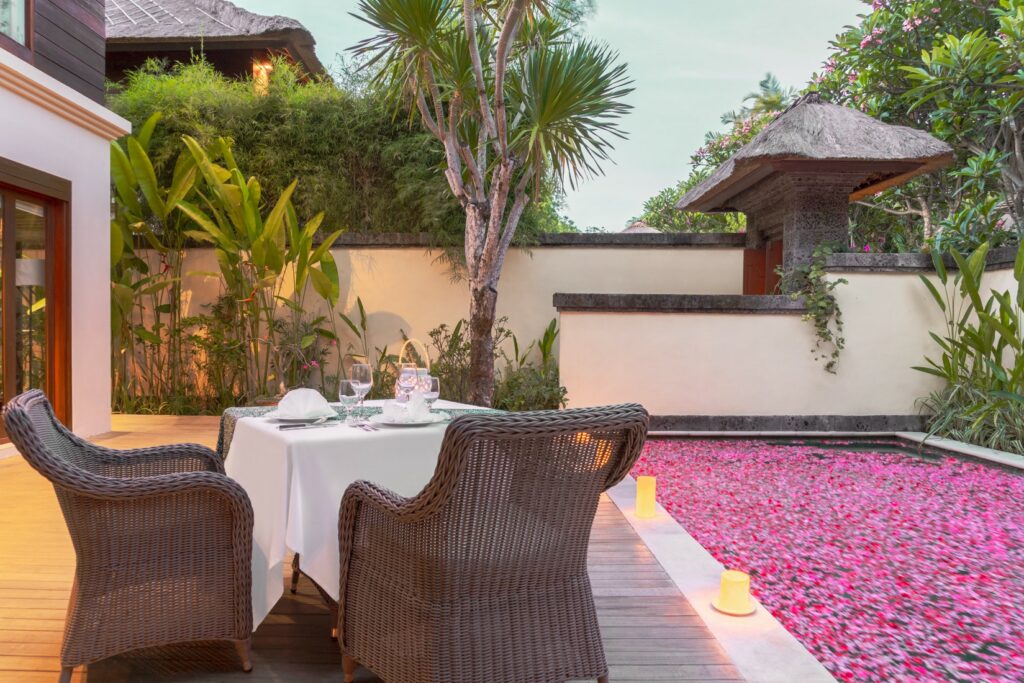 Honeymoon Pool Villa
Para pasangan sangat cocok menginap di Honeymoon Pool Vila kami. Menggabungkan kamar tidur lantai atas yang bergaya perkebunan, dilengkapi dengan kolam renang pribadi, dan beranda yang eksklusif serta dikelilingi dengan taman tropis yang menawan, vila ini adalah latar yang sempurna untuk menikmati masa honeymoon.
Harga mulai dari Rp 1,450.000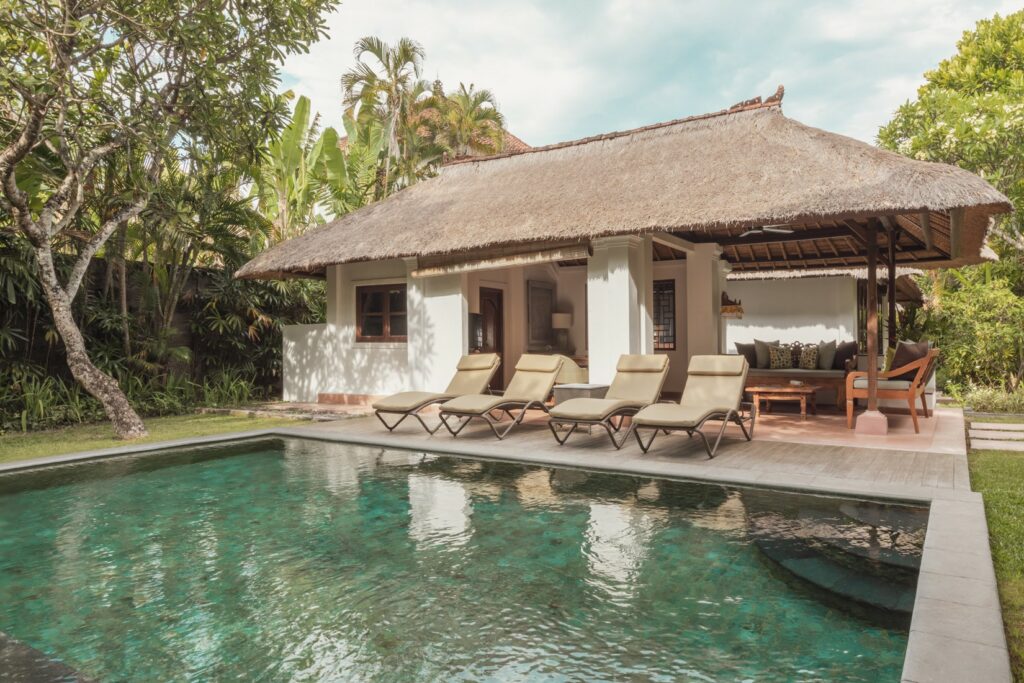 Two-Bedroom Pool Villa
Two Bedroom Pool Villa kami merupakan sebuah vila dengan suasana tropis yang didesain untuk mengakomodir liburan yang menyenangkan bersama orang-orang terkasih. Nikmati taman tropis yang luas, bermain air di kolam renang ataupun bersantai di kamar tidur bergaya perkebunan saat anda menghabiskan waktu berkualitas untuk berkumpul kembali dan bersantai bersama.
Harga mulai dari Rp 1,950.000
---
The Pavilions Bali: Escape to paradise
Discover your very own 'Heaven on Earth' at The Pavilions Bali, now with exclusive offers for Indonesian residents starting at IDR 1,150,000 for a Garden Villa with a guaranteed complimentary upgrade to our luxurious private Pool Villa.
Your Pavilions Experience Includes:
Complimentary upgrade from Garden Villa to a Private Pool Villa
Welcome drink upon arrival
Daily Breakfast at Jahe Restaurant
Complimentary Wi-Fi access
2 for 1 on your favourite Spa treatments
Enhance Your Experience
Arrive in style, hotel limousine Airport Transfer at only IDR 300,000 per way
Enjoy our signature Seafood BBQ at IDR 275,000 per person
Treat yourself to a stay in our Honeymoon Pool Villa for IDR 300,000 supplement per night
Stay Longer Benefits:
Stay 2 nights and enjoy a lazy late checkout
Stay 3 nights and indulge in a 60-minute Couple Spa treatment
Stay 4 nights or longer and celebrate with a Balinese feast to share
Book by 31 March 2021
Stay period 24 December 2020 – 30 June 2021
Pricing is subject to government taxes and service charges, scroll down to View T&C's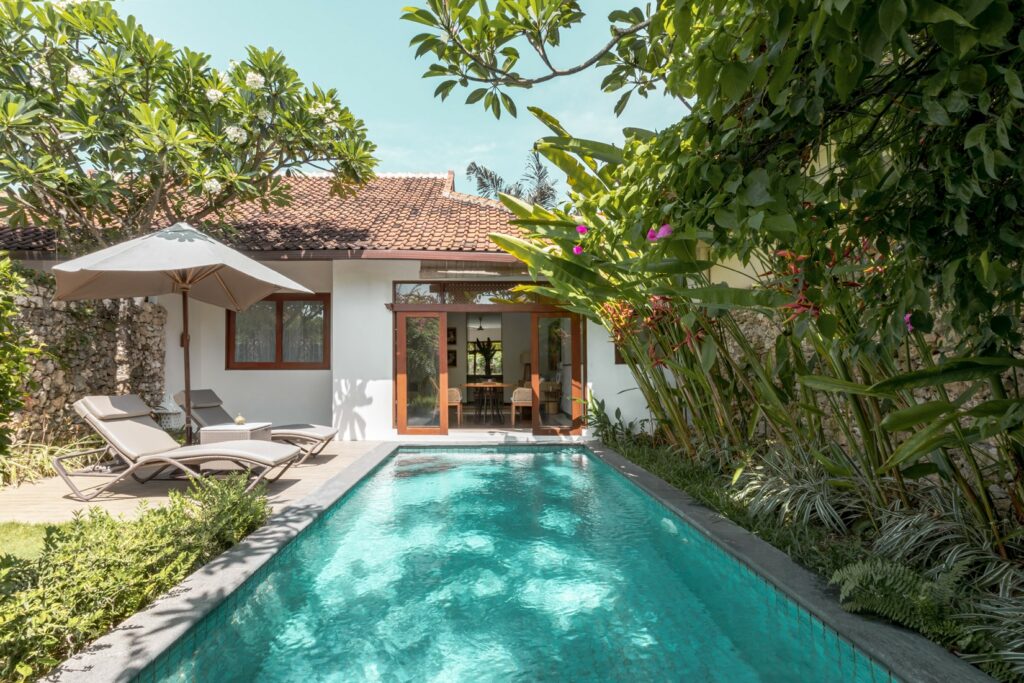 Discover our private Pool Villa
This enchanting and cosy pool villa is a hideaway in the true sense of the word. Share a dip in your own private pool, steal away for an indulgent nap on the breezy veranda or dine together under the stars – it's the perfect backdrop for intimacy and romance.
Priced from IDR 1,150,000 per night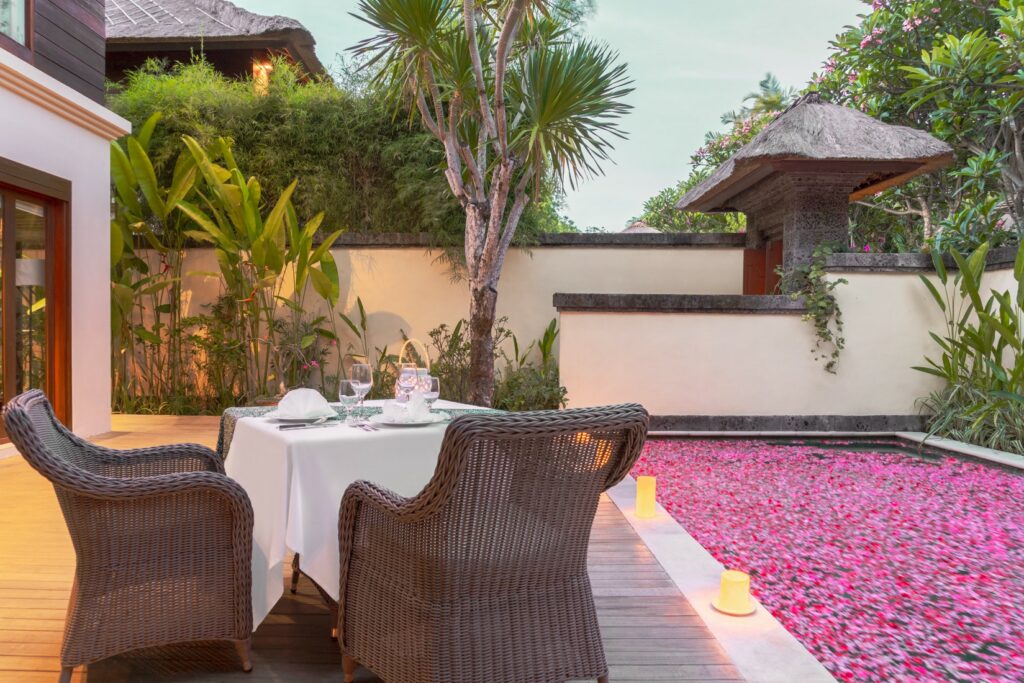 Discover our Honeymoon Pool Villa
Love birds looking for their own private sanctuary need look no further. Combining a plantation-style upper floor bedroom, private pool and intimate veranda all enclosed within a beautiful tropical garden, this villa is the perfect backdrop for a post-wedding getaway.
Priced from IDR 1,450,000 per night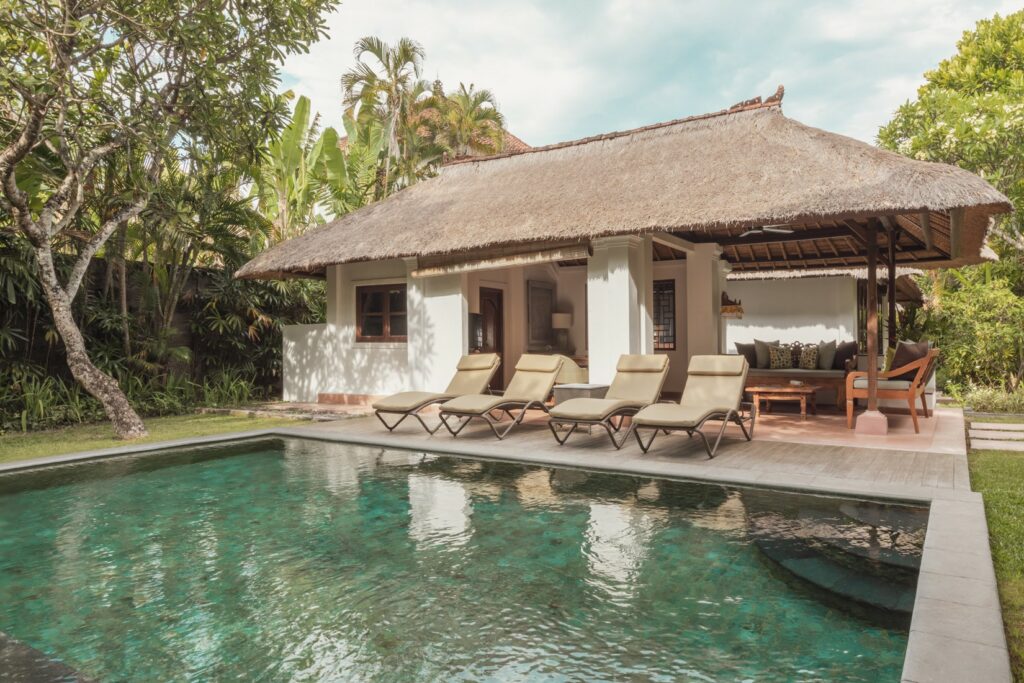 Discover our Two Bedroom Pool Villa
A homely villa set within its own private walled compound, this tropical hideaway was made for great escapes with loved ones. Enjoy a spacious tropical garden, make a splash in the swimming pool or unwind in the plantation-style bedrooms as you spend some quality time reuniting and relaxing together.
Priced from IDR 1,950,000 per night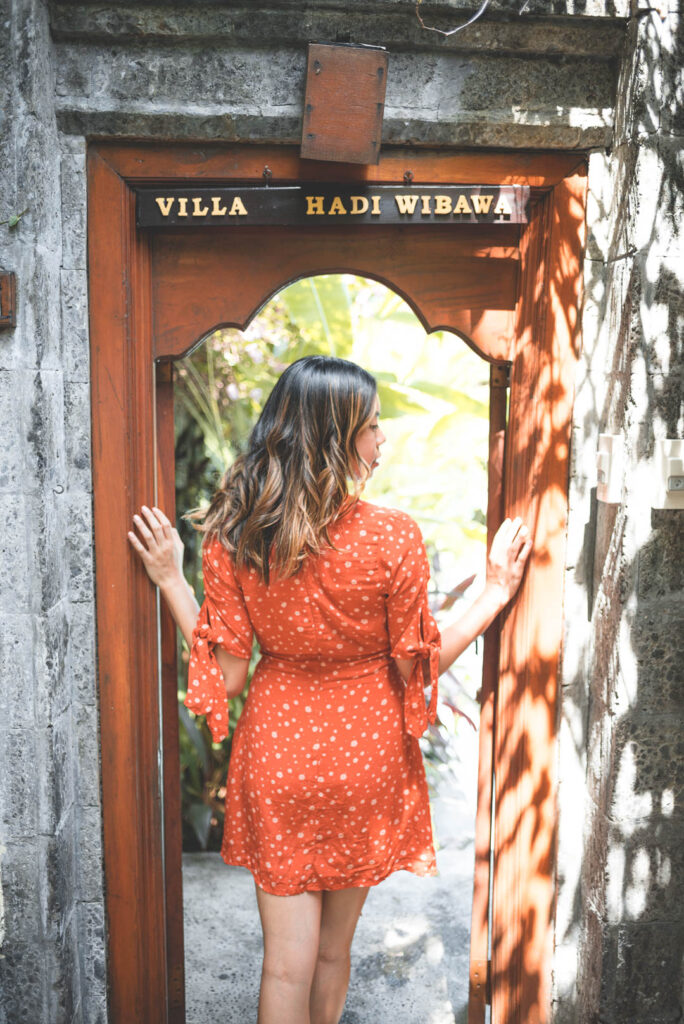 SYARAT & KETENTUAN
Berlaku dari 24 Desember 2020 – 30 Juni 2021, hanya untuk Penduduk Indonesia dan pemegang KITAS / KITAP.
Semua tarif yang tercantum dikenakan biaya layanan dan pajak 21%.
Tidak dapat digabungkan dengan promosi atau penawaran lainnya, inklusif berlaku seperti yang disebutkan di atas.
Tarif berlaku untuk 2 penghuni di One Bedroom Pool Villa / Honeymoon Pool dan 4 penghuni di Two Bedroom Pool Villa. Tamu tambahan hingga hunian maksimum dengan harga, sesuai dengan tercantum di bawah ini.
hunian per kategori vila:

One Bedroom Pool Villa: maks. 3 tamu.
Honeymoon Pool Vila: 2 dewasa saja
Two Bedroom Pool: maks. 6 tamu.

Dewasa IDR 375.000, Anak-anak (2-12) IDR 210.000, Bayi hingga dua tahun gratis
Semua inklusif berlaku untuk dua tamu di One Bedroom Pool Villa / Honeymoon Pool Villa dan empat tamu di Two Bedroom Pool Villa. Semua set makan malam tidak termasuk minuman.
Kebijakan Pembatalan
50% biaya akan dikenakan untuk pembatalan dalam waktu 03 hari sebelum tanggal kedatangan.
Ketidakdatangan: 100% biaya akan dikenakan jika tamu tidak datang tanpa info pembatalan sebelumnya.
Check-out lebih awal: Jika tamu check-out sebelum tanggal keberangkatan yang telah dipesan dan dikonfirmasi, hotel berhak untuk mengenakan denda yang setara dengan tarif masa inap penuh.
Diperlukan jaminan kartu kredit. Pembayaran penuh untuk biaya akomodasi akan diminta paling lambat pada saat check-in.
Konfirmasi pemesanan Anda dengan menghubungi properti secara langsung di [email protected] atau hubungi +62361 288381 (8.00 – 16.00)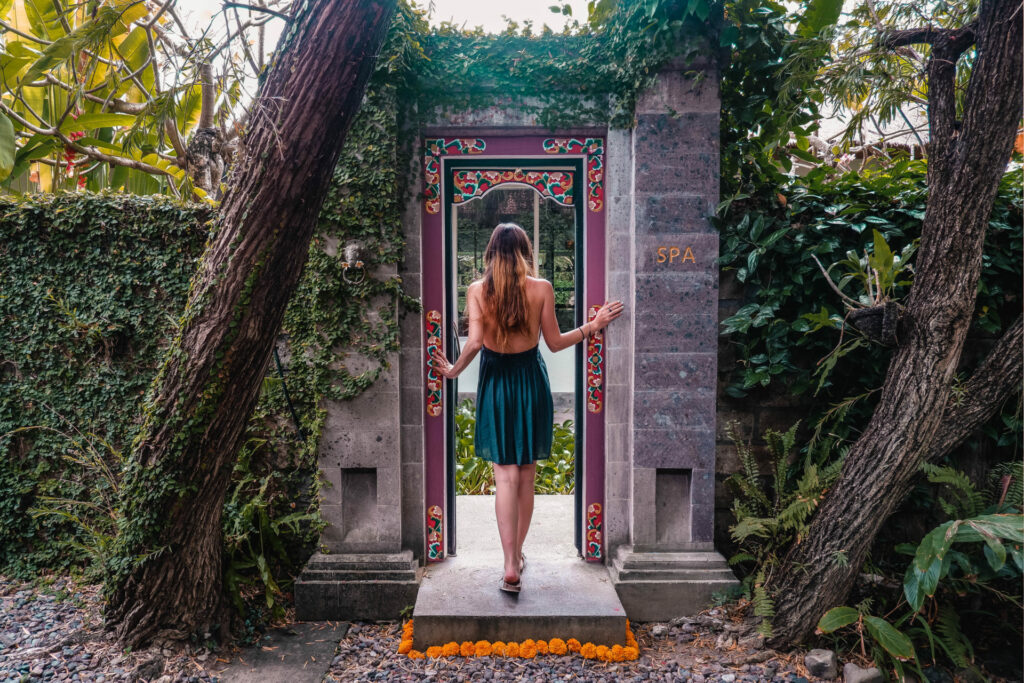 Terms and Conditions
Valid from 24 December 2020 – 30 June 2021, for Indonesian Residents and KITAS/KITAP holders only.
All rates listed are subject to 21% service charge and taxes.
Not combinable with any other promotion or offer, inclusions apply as per above.
Rates are for 2 occupants in One Bedroom Pool Villa/Honeymoon Pool Villa, and 4 occupants in Two Bedroom Pool Villa. Additional guests up to maximum occupancy at rates listed below. 
Max. occupancy per villa category:

One Bedroom Pool Villa: 3 guests max.

Honeymoon Pool Villa: 2 adults only

Two Bedroom Pool Villa: 6 guests max.
Adult IDR 375,000, Child (2-12) IDR 210,000, Infant up to two years free of charge
All inclusions are valid for two guests in One Bedroom Pool Villa/Honeymoon Pool Villa and four guests in Two Bedroom Pool Villa. All set dinners excluding beverages.
Confirm your booking by contacting the property directly at

[email protected]

or call +62 361 288381 (8.00 am – 4.00 pm)
Cancellation Policy
50% will be charged for cancellations within 03 days prior to the arrival date.
No show: 100% will be charged if the guest fails to arrive without prior cancellation.
Early check out: In the event of the guest checking-out ahead of the booked and confirmed departure date, the hotel reserves the right to charge a penalty equivalent to the rate of the full length stay.
Credit card guarantee required. Full payment for accommodation charges will be collected latest upon check-in.
Confirm your booking by contacting the property directly at

[email protected]

or call +62 361 288381 (8.00 am – 4.00 pm local time)
---
---
You might be interested in…