THE PAVILIONS NISEKO DEVELOPMENT UPDATE NOVEMBER 2022
19th-century Kominka woods from Gifu prefecture arrived at our storage facility in Niseko earlier this month as its transformation into an all-round elite Spa building awaits.
With the Japanese government announcing its acceptance of individual travellers back into the country, the town is once again becoming busy with all the excitement and anticipation for the world-famous ski resort, Niseko, to come alive!
The Pavilions Niseko resort is just a few minutes from the central Hirafu area, consisting of two parts – the Ginto residences and the hotel area giving a sense of community in a secluded forest setting.
All of our hotel facilities aim to provide our owners and guests a complete all-inclusive experience.
THE PAVILIONS NISEKO DEVELOPMENT UPDATE OCTOBER 2022
Woods from a 19th-century Kominka departed its original location in Gifu prefecture. They are loaded onto 2 x 12-ton trucks and make their way to The Pavilions Niseko resort at the beginning of November.
This 2nd Kominka site will be given a new life as a dedicated Spa house – featuring a traditional Tatami room, elegant spa treatment rooms, a yoga studio, gym facilities and beauty salon. Together with our natural Onsen, guests are in for a complete retreat holiday experience in a tranquil forest.
THE PAVILIONS NISEKO DEVELOPMENT UPDATE SEPTEMBER 2022
We have more exciting updates on the upcoming Kominka at The Pavilions Niseko which will be our Spa building.
The aged Kominka wood from the 19th century, currently stored in Gifu prefecture by our master builders is soon to arrive in Niseko. We will be testing and assembling these aged woods to simulate the former structures and will be moving on to the finalization of building design with all the exclusive Spa features for the ultimate elite in spa experiences.
With our Onsen, this Spa building will enhance your vacation in our secluded forest setting.
The Spa building will also have a traditional tea room, where guests can gather and enjoy an authentic tea ceremony, or "Sado" experience led by a real sensei. A flower arrangement or "Ikebana" will also be offered, enabling our treasured guests to immerse into a traditional and authentic Japanese world.
THE PAVILIONS NISEKO DEVELOPMENT UPDATE AUGUST 2022
We are thrilled to share with you exclusive timelapse footage of our 19th-century Kominka transforming into The Pavilions Niseko signature Clubhouse. Read more about this extraordinary building in our latest press release, available here.
We're also excited to welcome you to Villa Awayuki. Nestled amidst the silent woods, allowing guests to be at one with nature, the magnificence of Mt. Yotei and the surrounding valleys, Villa Awayuki's expansive three-bedroom layout and living space offers everything you need for a Niseko escape.
Book the stunning Awayuki Villa, available here
THE PAVILIONS NISEKO DEVELOPMENT TIMELINE JULY 2022
The development team at The Pavilions Niseko continues to move ahead and we're proud that construction has sustained and pushed ahead during these last two years.
As we look forward, we continue to develop unique experiences for the domestic markets.
1st October, 2020:

Underground infrastructure for the entire site (electricity / telephone / internet available) completed

24th December, 2020:

Hotel Resort Villa A "Awayuki" completed

End September, 2021:

Onsen drilling (800m underground) completed

End October, 2021:

The official registration of the Pavilions Ginto Onsen by the Ministry of Environment in accordance with Japan's "Hot Springs Act"

Early November, 2021:

With few additional features installed since the building completion, first guest intakes started at Villa "Awayuki"

25th January, 2022:

Hotel Resort Villa B "Tsurara" completed

25th January, 2022:

Hotel Resort Villa C "Konayuki" completed

25th January, 2022:

Hotel Resort Villa D "Sasame Yuki" completed

End May, 2022:

Clubhouse Kominka (restaurant, bar, coffee lounge and reception) completed
For the 2024 opening we are now moving onto the planning stage of two fabulous service buildings, one of which will also be a Kominka from the 19th century.
Spa Kominka (spa treatment rooms, beauty salon, relaxation space, yoga room, gym)
Onsen House (indoor Onsen, outdoor Onsen, cryotherapy rooms, family Onsen room, dry saunas, dipping bath)
Please stay tuned for our updates.
THE PAVILIONS NISEKO GINTO (銀兎) ONSEN june 2022
Following a year of drilling, our Onsen is all the way down to 800m under the ground. The entire Onsen drilling work is made up of 4 phases; 0-20m, 20-100m, 100-350m and 350-800m. At each phase, after drilling work the well is reinforced by cement and inserted with casing pipes.
We found a sufficient flow of Onsen water between 494-703m and 747-758m, casing pipes with slits are inserted for these depths to attract the hot Onsen water to flow in.
We received a full detailed report from the respective government body confirming that our hot water passed all the tests to be called as "Onsen water", namely 1. volume/minute, 2. mineral quality of the water, 3. temperature as well as 4. natural gas content.
The Pavilions Niseko Ginto (銀兎) Onsen is rich in mineral content and carbonation which is rare and good for blood circulation, helps many body conditions and eases the day's tiredness from all the exciting activities in the area.
Clubhouse progress june 2022
At the end of May 2022, we welcome the end of construction for our 1st Kominka building on site – The Pavilions Niseko Clubhouse.
The Clubhouse consists of facilities including the reception, coffee lounge, restaurant and a bar upstairs.
The design was executed by ALT-254, a design & construction firm based in Hong Kong. Heritage Homes Japan carried out the transplant of the old Kominka timbers with the partner M&Company in Gifu prefecture.
This gorgeous, then family home lived by generations over the last 120-130 years, was brought back to life with a brand new look by Imoto building company, specialising in traditional buildings such as shirines and temples using "miyadaiku" techniques which is seen from year 710 along with local builders Takahashi Setsubi Kogyo (Otaru-based) as well as Kabushiki Kaisha Hand Made (Sapporo-based).
Soon the building will feature an outside terrace area extended directly from the restaurant for a delightful outdoor dining experience in the GINTO forest. 
Customisations Complete: Children's Bunkroom
Customisations Complete: Large spa room with private Sauna
FEBruary 2022 Construction updates
Over the winter, the team has made significant progress completing the resort facilities which will house the reception, coffee lounge, restaurant and bar. With the structure complete, visitors will notice the stunning 130 year old structural beams along with touches of mid-century modern fixtures and lighting. Set to complete this spring with plans to open for viewing.
january 2022 Construction updates
Handover of Villas B (Tsurara), C (Konayuki) and D (Sasame Yuki) took place on 25/01 and will be welcoming visitors come March.
NOVEMBER 2021 Construction updates
November saw the first four villas completely air and wind tight, with the special spa and children's bunk room installed in Villas B (Tsurara) & C (Konayuki). We are on track for a very Merry Christmas, with all of the villas being handed over on 25th December 2021.
Check our website to secure your January 2022 and February 2022 bookings at Villa A (Awayuki)!
September 2021 Construction updates
Villas B – D are on schedule to completion December, 21. The beautiful Kominka Clubhouse Facilities are up, with 130 year old beams strong and restored with modern design by ALT-254.
Onsen water found at 484 – 703m and 747 – 756m.
July 2021 Construction updates
We're delighted to bring you exciting new video updates of development in Niseko. Foundations are complete for our three new resort villas and the elevations are up; we're beginning to see the full structure of these stunning villas set in the majestic beauty of Nisekos' striking lush nature. 
Tsurara Villa will feature a spa room with an infrared sauna and relaxation room, while Konayuki Villa will feature a four-bed bunkroom play area for kids. Good news regarding the onsen digging, we are on track and getting close to water!
NEW CUSTOMISATION OPTIONS
The Pavilions Resort Villas are now more customisable with a pricing breakdown. If you are interested in choosing an off-plan personalised villa tailored to your needs, don't hesitate to get in touch with us or download the information sheets.
June 2021 Construction updates
Foundations have been laid for three more resort villas which will be complete and ready for sales by Dec 2021. Even more exciting news is that the foundation of The Pavilions Niseko clubhouse containing reception, coffee lounger, restaurant, bar and library will be commencing the second week of June. As of 26th of May you will see the onsen drill seeking our natural onsen water source.
April 2021 Resort construction updates
With our first resort villa, Awayuki, complete and fully powered, we prepare to break ground in April/May on the resort facilities Kominka, which will finish later this year. We have approval to dig for our onsen and will begin digging simultaneously with the construction of the Komina.  
Some great news for our Ginto and Resort Villa owners, onsen water will be available for purchase to turn your personal villa 'Yokusou' into onsen. Resort Villa owners will soon have the option of adding either a spa room with private sauna, bunker room or an entertainment room to the layout as well as a host of additional upgrades. More information on these options will be made available soon. 
We look forward to welcoming everyone to The Pavilions Niseko Resort soon!
an update from our founder and owner
We are pleased to announce that underground power infrastructure is completed and the internet is operating for The Ginto Residences and The Pavilions Niseko Resort sites. Connection instructions for people breaking ground will available soon on our website.
KOMINKA RESORT FACILITIES PROGRESS
With the site levelled and the infrastructure trenches dug, road works will commence this June 2020.
Shortly after that, you will see the foundations for the Kominka and resort villas. 
The interiors preserve the understated elegance of traditional Kominka style while iconic plush Scandinavian furnishings warm up the space and bring the comfort of modernity.
Lounge by the fire in the coffee salon or enjoy a cocktail at the apothecary-inspired bar.
With development approval granted for the resort villas and kominka resort facilties, The Pavilions Niseko is on track to complete this season.
Click the videos to the right to see infrastructure works and road words for the resort.
Internet and Power Installation
We are pleased to announce that underground power infrastructure works have begun for The Ginto Residences and The Pavilions Niseko Resort sites.
In the coming months, you will notice regular works carried out on-site, beginning at the northeastern part and continuing to the resort site. Hokkaido Denko has assured that the site will be fully powered by 01 October 2020.
Additional information to note:
Main power is being drawn from Highway 343 (main entrance of the site);

Power works to complete by 01 October 2020;

Any trees standing four meters from the road will be removed to make room for power pillar boxes and underground cables;

All Plots will be allocated a total of 20 KVAs per residences as per Aza-Yamada (Kutchan Town) standards;
By way of reference, our three Ginto Villas (Keyaki, Katsura and Hinoki) utilise under 15 KVAs.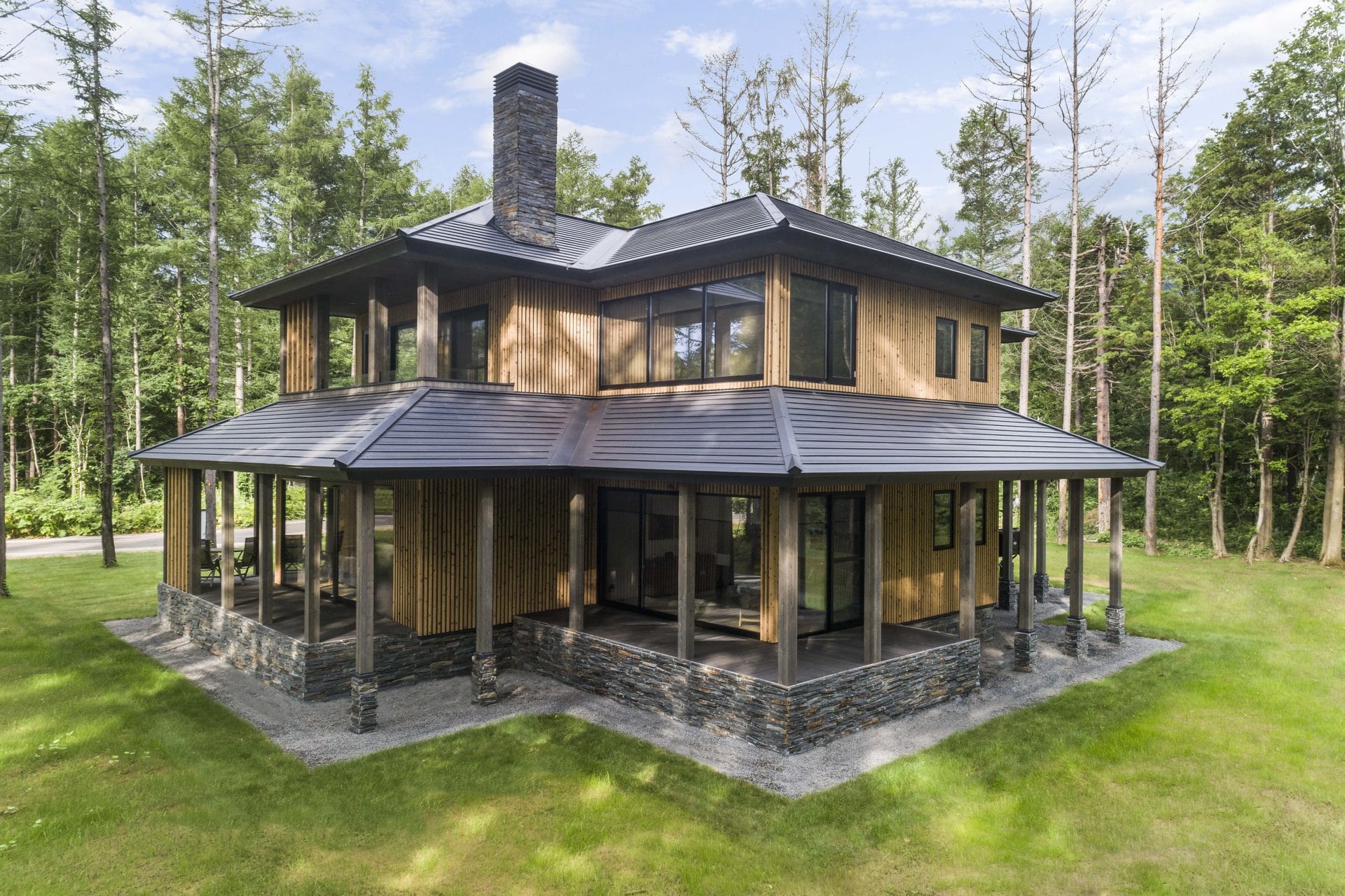 Ginto Villa Approval Process Update
We have received a surge of design approval requests in the past few months. Please remember that the approval process requires two stages of approval to be granted by The Pavilions Niseko prior to submitting plans to the local authorities for a building permit. As it is the owners' responsibility to conform to these guidelines and all covenants, The Pavilions Niseko recommends: 
Submission of the concept designs with a minimum of 3 external views; and 

Submission of a minimum of 3 external CGI's and one landscape design.
Suggested time allowance time of 4-6 weeks as amendments may be required in order to comply with the design code.
Once written approval from The Pavilions Niseko is received, owners may proceed to submit plans to the local authorities for a building permit. The Pavilions Niseko is not responsible for delays caused by nonconformance. Please refer to the SIM and the Sales Contract for the covenant legal reference. All Owners are required to complete building within 24 months of breaking ground.
Submit plans to [email protected]
Download the full set of The Ginto Residences Design Code and Building Covenants
Interim Internet & Power Back-Billing
Interim Internet & Power Back-Billing
Currently, The Pavilions Niseko pays the cost of the generators. However, we will back bill the clients the cost of standard electricity charges based on their actual consumption once the power goes in. Therefore, once the electricity is in, we will ask the contractors the total KW used during the build then based on their usage rates for the same months the following year we will back bill them for Winter 2019/2020. These invoices we will send directly to management companies to get approval from the clients.
Similarly for the Internet, The Pavilions Niseko pays the cost of the WiFi boxes. These will also be back billed once we have actual internet monthly fees to base the cost on.
BIOGRAPHY ON KOMINKA CONTRACTOR
Imoto Construction LL, Established in 1985
Specialising in Buddhist temples, shinto shines, and Japanese old houses/kominkas.
Design, Construction, and Renovation of wooden houses
Repair, Renovation, Relocation of old houses
Repair of earthen store houses
Design, Construction, and Renovation of Buddhist temples and Shinto shrines
Necessary items production for temples and shrines such as mirror stands or frames
CEO: Imoto Masahiro
2007 Approved as a traditional architect of Takumi (Skilled master carpenters)  by Gifu prefecture
2017 Approved as a master carpenter of Hida Takayama