Your Curated Journey Starts Here
reserve your next stay with us
The best places for a sleepover in Madrid, from cool hostels to grand-dames.
Burgeoning boutique luxury hotel brand, The Pavilions Hotels & Resorts, has announced the opening of The Pavilions Rome, The First Musica from 1 July 2022.
As Mongolia and Nepal reopen to much-needed international tourism, The Pavilions Hotels & Resorts invites adventure seekers to head 'Into The Wild' to discover the exhilarating natural landscapes and vibrant cultures of these extraordinary destinations.
The Pavilions Rome, The First Muscia features in Forbes New Hotel Openings
A monthly luxury lifestyle magazine expertly targeted and distributed to an affluent audience. Combining engaging and inspirational editorial content along with design, the publication is the definitive guide to living life well. Produced to a high specification the fresh, vibrant look reflects its sophisticated readership.
While the pandemic may have put paid to many travel plans over the past two years, things are looking slightly more hopeful for 2022, with a number of new boutique hotels slated to open across Europe by the end of the year.
The Pavilions Rome, The First Arte, The First Dolce, and The First Musica Feature in Resorts Magazine
Gordon Oldham arrived in Hong Kong from the UK in the late 70s, and it's likely you've heard of him. The question is who do you know him as? The founder of leading independent Hong Kong law firm Oldham, Li & Nie (OLN) or the founder of award-winning Pavilions Hotels & Resorts, now in 14 locations around the world? Maybe you've heard of Gordon as the man who created MTV Asia or Action Asia Events. Here, he provides some inspirational advice for budding entrepreneurs.
You've exchanged vows. Now it's time to spend your honeymoon in one of the most stunning locations in the world. The Pavilions Bali features in top 5 Honeymoon Hotels in Bali
Former head chef of World's 50 Best restaurant, Tim Raue, Chef Christian Herrgesell hosted two gastronomic events at the luxury resort on 14 and 15 January 2022
you might be interested in..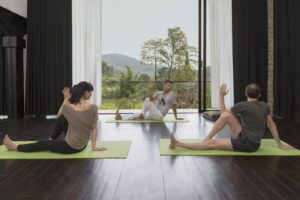 Luxury eco-resort The Pavilions Himalayas, The Farm is inviting guests to rest and recharge mind, body and soul with an enriching, all-inclusive four-day yoga retreat from GBP1,194* per person.
Read More »