Your Curated Journey Starts Here
reserve your next stay with us
The Pavilions Anana Krabi, an Ecological Experience.
Those looking to get away from busy work life need look no further. Spend your hard-earned vacation time discovering Krabi; you may never want to go back to the office!
On arrival, we'll pick you up from the airport and take you to the hotel. Take some time to settle in before embarking on your Curated Journey. Treat yourself to a 90-minute massage in the privacy of Asana Spa, just what you need to unwind for the evening and soothe out any post-flight discomfort. Explore the local Night Market and enjoy the cultural street food of Krabi.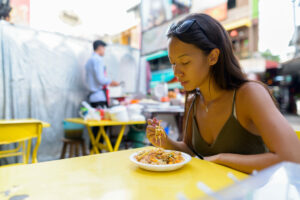 Crown your holiday experience by chilling onboard our vintage yacht and experience a 3 hour sunset cruise with breath-taking sunsets cruising along Poda Island towards Railay Beach.
Swim and snorkel in the bioluminescent waters around Pranang Beach, enjoying Cocktails and the onboard Thai Tapas Buffet
Wake up sleepy head. It's time to set off on the ultimate nature lovers' trip. Begin the adventure by exploring the spectacular Emerald Pool, hot spring waterfall, one of Krabi's most iconic adventure place. With plenty of trails winding through the ridges, this must-see panorama is as quaint as it is beautiful. Don't forget the camera because your next stop is the sacred site of Mount. Then begin your journey back through the vibrant local town of Krabi before ending the day with a 'Romantic Sunset Dinner' for two at the Nature Aqua Beach Club.